Find a Caring Proctologist in Tarboro NC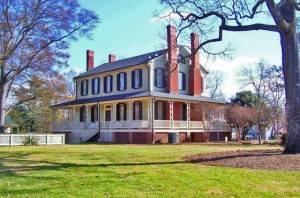 With a unique culture that is an eclectic mix of past heritage and modern lifestyle, Tarboro NC is a thriving town located just 73 miles away from the center of Raleigh NC.
The town has a thriving arts scene and a relaxed attitude to life. As one of the region's premier retirement locations, the town is filled with active seniors enjoying life. When these residents require the attention of a proctologist in Tarboro NC, they often combine their consultation with a visit to nearby Raleigh.
What's in Raleigh?
Located in Raleigh NC, Saleeby and Wessels Proctology (S&W) has been providing healthcare services since 1955. Founded by Dr. Richard Saleeby, Sr. and staffed by his son, Dr. Richard Saleeby, Jr. and Dr. Frank Wessels, S&W was established to help patients suffering from anorectal conditions that caused awkward and embarrassing pain, itching and bleeding.
What Can We Do for You?
At S&W, we offer diagnosis and treatment of a wide range of colorectal conditions. Whether you need a physical examination or a specialized diagnosis using our up-to-date technology, we can provide the services you require, including:
Diagnosis: Our experienced doctors and our friendly staff team will deliver your diagnosis in the most compassionate way possible. Our diagnosis methods use the most up-to-date techniques and equipment available, and include:

Screening colonoscopy
Proctosigmoidoscopy
Polypectomy

Evaluation of Symptoms: We assess symptoms such as changes in bowel habits, anal bleeding and discharge or fecal incontinence.
Non-Surgical Treatment: We try at all times to find the most non-invasive solutions for you, and 90% of conditions are treated in our office. Our doctors use a combination of topical medicine, diet and lifestyle changes to effect an improvement in most conditions.
Surgery: We recommend surgery as a last resort only, but in cases where it is required to bring you back to good health we have the expertize to provide it. Both Dr. Saleeby, Jr. and Dr. Wessels are board-certified colorectal surgery Fellows with extensive experience in treating anal conditions.
Conditions Treated
Our doctors care for patients with a range of anorectal conditions. Some of the most common problems presented at our office are:
#1: Proctitis: This is related to inflammatory bowel disease or bowel infections such as colitis or Crohn's disease. Proctitis causes pain during bowel movements, a feeling of urgency and blood or other discharge from the rectum. Proctitis can usually be treated without surgical intervention, and patients experience a degree of relief almost immediately after they begin treatment.
#2: Pilonidal Disease: This is an infection that develops in the crease of the buttocks. Caused by hairs becoming embedded in the skin, the patient experiences a small swelling that develops into a large, painful mass. If this mass becomes infected an abscess can form, which may need to be surgically drained to eliminate it.
#3: Anal Cancer: This is a common form of cancer that develops when the cells around the anal canal begin to grow abnormally and invade the tissues around the anus. Symptoms include itching, pain and bleeding in the area, combined with changes in bowel habits. This condition is treated with surgery, radition and chemotherapy and carries a high rate of success among patients.
The Saleeby and Wessels Approach
At S&W our mission is to provide personalized care to all our patients, and to deliver the most comfortable experience possible. By putting you first every step of the way, we work to find the most effective method of treatment for your condition, and we try as far as possible to treat you on an outpatient basis without surgery. When you need a proctologist in Tarboro NC, come to Saleeby and Wessels for the very best compassionate care at all times.