When You Need Proctologists in Clayton NC, We're Just Down the Road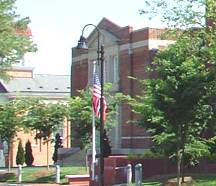 The town of Clayton NC is a charming, character-filled town just 17 miles from Raleigh.
Clayton's 16,000-plus residents come from a range of backgrounds, including financial and legal professionals and a thriving community of artists.
When residents need proctology services in Clayton NC, they have easy access to quality care from Saleeby and Wessels located less than 20 minutes away.
Founding of S&W
Founded in 1955 by Dr. Richard Saleeby, Sr., a lifelong resident of North Carolina, Saleeby and Wessels was born out of the overwhelming need in the community for help with common, troublesome anorectal conditions such as hemorrhoids, anal fistulas and even illnesses such as Crohn's disease. Dr. Saleeby quickly realized that many local residents were suffering unnecessarily with these conditions, and that fear and embarrassment caused them to avoid seeking medical treatment.
Providing the Care You Need
At Saleeby and Wessels, we provide diagnosis and treatment options for a number of conditions, including:
Hemorrhoids: These are small, vascular pouches that exist normally inside the anal canal and in the skin outside the anus. They act as cushions during bowel movements by becoming engorged with blood, and shrink back to regular size afterwards. If they become enlarged or inflamed between bowel movements, you may develop symptoms such as bleeding, swelling and discomfort as a result. Almost half of the adult population of 50 years or older experiences hemorrhoids, but a range of treatments are available to manage or eliminate them. Often, surgery is not required.
Anal Cancer: A fairly common form of cancer, anal cancer develops when the normal cells around the anal canal become malignant and through abnormal growth, they invade the surrounding tissues. Symptoms include:
Anal bleeding or discharge
Pain, itching or swelling in the anal area, or swelling of the lymph nodes
Changes in bowel habits, such as narrowing of the stools
At Saleeby and Wessels, we treat anal cancer with surgery, radiation and/or chemotherapy. Our doctors are all board-certified colorectal surgery Fellows, with many years' experience treating anal conditions.
Proctitis: This condition is typically related to inflammatory bowel disease or bowel infections, such as colitis or Crohn's disease, although it can also be caused by exposure to radiotherapy for cancer. It causes painful bowel movements, a feeling of urgency to have a bowel movement, and blood or other discharge from the rectum. If you experience any of these symptoms, finding proctologists in Clayton NC or the surrounding area will enable you to get immediate relief, followed by long-term management and healing.
Come to Saleeby and Wessels
Our qualified proctologists at Saleeby and Wessels will give you the care you need without having to travel long distances to access it. Our skilled, dedicated team will ensure that your experience with us is comfortable, and that you receive the very best treatment in a calm, professional environment. Our modern technology and up-to-date methods of diagnosing your anorectal conditions are geared towards minimizing your embarrassment. We reserve surgery as a last resort, but if it becomes unavoidable our surgeons are highly skilled and able to perform it.
For the very best proctology services in Clayton NC or surrounding areas, come to Saleeby and Wessels where we put patients first, every step of the way.