Need Proctologists in Fayetteville NC? We're just 65 miles away!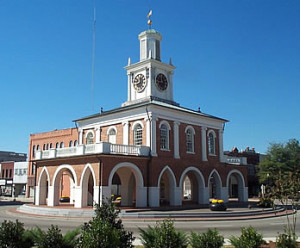 With over 200,000 residents, the city of Fayetteville NC is the county seat of Cumberland county and the sixth largest municipality in NC.  It is home to Fort Bragg and Pope Field, two major U.S. Army installations located in the county.
There are several colleges and universities, and Fayetteville is considered the hub of the NC Coastal Plains region for retail, entertainment, and healthcare.
This is an area where health care requirements and expectations are high, and our proctologists are proud to serve its residents' colorectal and anorectal conditions.
Proctology Services
Whether you need medical attention for an area of concern or just to schedule screening for a particular medical condition, Saleeby and Wessels is your first choice of proctologists serving Fayetteville NC with over 50 years of experience. We offer a range of services, including:
Diagnostic colonoscopy
Flexible sigmoidoscopy
In-office evaluation of anorectal disorders
Screening and surveillance for colorectal cancers
Surgery and ongoing management of anorectal conditions
These services are available for the diagnosis and treatment of various anorectal problems.
Anorectal Conditions
As leading proctologists in Fayetteville NC, we treat medical conditions such as:
Bowel Incontinence Patients suffering from this condition are frequently unable to prevent gas or feces from leaking out. Instead of dealing with this awkward and embarrassing situation alone, you may be able to treat it with a combination of dietary changes, medication and regular exercise. Consulting with one of our proctologists in Fayetteville NC can provide you with the support you need to manage your condition appropriately and without discomfort.
Proctitis When the lining of the rectum becomes inflamed, it causes pain in the area and an ongoing sensation that you need to have a bowel movement. The condition is common in patients with inflammatory bowel disease, but it can also be caused by sexually transmitted infections or radiation therapy for cancer. If Proctitis symptoms persist and remain untreated, it can develop into a chronic condition. Our proctologists in Fayetteville NC are knowledgeable and experienced in treating Proctitis and you can be sure you'll get answers to all your questions.
Anal Fistulas These are typically caused by an anal abscess, which occurs as a result of Crohn's disease, ulcerative colitis, or cancer treatments such as chemotherapy or radiation. The glands around the anus become blocked with bacterial matter and this results in an infection. A tunnel or anal fistula forms between the abscess and the infected glands, causing swelling, inflammation, discharge and pain during bowel movements. Fistulas generally require surgery to drain and treat them, and our proctologists in Fayetteville NC are board certified colon and rectal surgeons.
The Saleeby and Wessels Approach
We aim to provide our patients with personalized care and the most comfortable experience possible. We put you first every step of the way, with our knowledgeable and experienced staff team whose friendly attitude will give you the confidence you need. We work with you to find the least invasive method of addressing your specific condition, and often anorectal disorders can be treated on an outpatient basis without surgery. Our diagnostic services and equipment are state of the art, and you can expect the very best compassionate care at all times.