Need a Proctologist in Henderson NC? We're Just a Few Minutes Away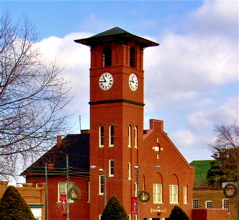 The city of Henderson NC was born out of a settlement that began in 1785. Back then, the first farm in the area was called "Lonesome Valley." It remained that way until 1811 when the establishment of a store close to the stagecoach road resulted in an influx of settlers. By 2010, Henderson was home to more than 15,000 residents, and is ranked 7th on the list of top 10 safest cities in North Carolina.
This friendly town is a haven for local residents, who enjoy a calm and peaceful way of life. When they need the quality services of top medical professionals such as proctologists in Henderson NC they can easily access Saleeby and Wessels, located just 43 miles away in nearby Raleigh.
Our 'Patients First' Approach
Saleeby and Wessels was founded in 1955 by Dr. Saleeby Sr. when he became aware of the suffering prevalent among residents of North Carolina. Common, preventable anorectal illnesses such as hemorrhoids, constipation and anal abscesses were causing a significant amount of discomfort, and he founded the practice with a vision to make treatment as comfortable as possible for his patients.
You Can Trust our Diagnosis
At Saleeby and Wessels, our mission is to deliver a diagnosis you can trust. We do this through:
1. Conducting a thorough physical examination and assessment of your symptoms, such as:
Anal bleeding
Discharge
Pain and itching
Protrusion or swelling
2. Evaluating changes in your bowel habits, such as the development of diarrhea, constipation of fecal incontinence.
3. Performing a diagnostic procedure such as a colonoscopy or flexible sigmoidoscopy.
Once we complete our investigation, we provide you with a clear diagnosis and a treatment plan of action. Many common anal conditions can be treated in our offices, avoiding the need for invasive surgical interventions.
Conditions Treated
At Saleeby and Wessels, our treatment options cover several types of anorectal conditions. These include:
Anal Fissures: These are small tears in the lining of the patient's lower rectal area, which are caused by constipation, the passing of difficult stools, diarrhea or anal Crohn's disease. Patients often mistake fissures for hemorrhoids, because the symptoms for both conditions are similar. We can usually treat anal fissures in our office without the need for surgery.
Hemorrhoids, which are caused by the inflammation of vascular cushions in the anal canal. These typically cause bleeding, discomfort and swelling after bowel movements, and are particularly common among women by the time they reach the age of 50 years.
Colon cancer, which can present with many of the signs and symptoms common to other colorectal conditions. These include pain and itching, bleeding from the rectum, persistent abdominal discomfort and unexplained weakness, fatigue or weight loss.
Caring for You
Our friendly, compassionate medical team makes every effort to treat you with care and compassion, using the least invasive method possible. We try at all times to give you the answers you need, and we work with you to improve your quality of life through changes to your lifestyle and diet. When and if surgery is recommended, our two board-certified colorectal surgeons have the knowledge and experience you need to provide the quality care you expect.