For Treatment by Proctologists, Roanoke Rapids NC Patients Come to Saleeby and Wessels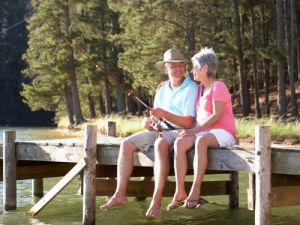 The City of Roanoke Rapids in North Carolina is located in Halifax County, with a population of 6,437 households in 2010.
As a popular location for retirees, it's essential that residents have easy and convenient access to proctologists for any colorectal and anorectal conditions they experience.
For that reason, the proximity of Saleeby and Wessels Proctology Services just 90 miles away in Raleigh NC is a welcome and comforting aspect of life.
Services We Offer
By consulting with our leading proctologists Roanoke Rapids NC patients can expect the very best treatment for all their anorectal healthcare requirements. We offer a one-stop destination for your needs, whether they are diagnostic or treatment-related.
Our diagnostic services include:
Diagnostic colonoscopy
Flexible sigmoidoscopy
Physical examination and evaluation of anorectal disorders
Screening for colorectal cancers
We have modern, up-to-date technology available and aim to use the most minimally-invasive methods possible.
Conditions and Treatments
We offer comprehensive treatments for a wide range of conditions, such as:
Anal Crohn's Disease: This is an inflammatory condition in the patient's digestive tract that affects more than two million people across the United States. It typically affects patients between the ages of 16 and 40, and many people don't realize they have it because symptoms such as bloating and diarrhea come and go. The condition can't be cured but it can be treated and managed throughout your lifetime, often without the need for surgery.
Pilonidal Cysts: These cysts are caused by inflammation that develops as a result of a cystic cavity just above the tail-bone between the buttocks. They can exist for years without causing problems, but if they become infected they may develop quickly into an abscess that needs to be drained. In some cases the cyst might need to be removed surgically to reduce the chances of it recurring.
Anal Dermatitis: Also known as Pruritus Ani, anal dermatitis causes itching around the anus that can be very inconvenient and uncomfortable. Although it's often caused by moisture trapped in the area, skin irritation or scratches, anal dermatitis can also be a result of an inflammatory bowel disease or a bacterial infection. Treatment usually comprises keeping the area clean and dry and using topical medications, plus dietary changes to help reduce the irritation from frequent bowel movements and cleansing.
Surgery a Last Resort
As dedicated proctologists Roanoke Rapids NC patients can rest assured that we do everything possible to ensure that your experience is a comfortable one. We reserve surgery as a last resort, and 90% of our patients' issues are resolved with a few office visits. If surgery is unavoidable, our board-certified rectal and colon surgeons are superbly qualified to perform it, since both have completed advanced surgery training and passed the exams of the American Board of Surgery and the American Board of Colon and Rectal Surgery.
If you're in need of proctology services in Roanoke Rapids NC, Saleeby and Wessels are close enough to provide you with the treatment and care you deserve with the convenience you need.