When you need proctology services in Wilson NC, we're only 40 miles away!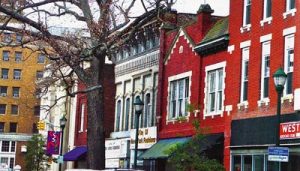 The 50,000 people living in Wilson NC just know a good thing when they see it. Located some 40 miles east of the Triangle, the city is well known for some very different "good things" – its trees, its clean water and its internet speeds.
Wilson is also known for having enjoyed 150 years of strong economic growth that has contributed to a comfortable lifestyle for the majority of the residents. And when those residents need proctology services in Wilson NC area, they are within easy reach of Saleeby and Wessels Proctology (S&W) in Raleigh.
Who are S&W?
Dr. Richard Saleeby, Jr and Dr. Frank Wessels are highly qualified and experienced colon and rectal surgery Fellows. Both certified by the American Board of Colon and Rectal Surgery (ABCRS) and the American Board of Surgery (ABS), they dedicate themselves to helping their patients deal with embarrassing and difficult colorectal conditions. S&W was established in 1955 by Dr. Richard Saleeby, Sr, who recognized the need among people in the region for skilled medical care for these types of conditions.
Screening and Diagnostics
First and foremost, we offer screening and diagnostic services such as colonoscopy, flexible sigmoidoscopy, polypectomy, and screening and surveillance for colorectal cancers. Our approach to offering proctology services in Wilson NC is always to put our patients first, every step of the way. Our mission is to provide the best care possible and to make your experience as comfortable as we can.
What Conditions Does S&W Treat?
At S&W, we treat a range of illnesses. If you're dealing with any of these conditions, we can help you identify the cause and provide you with a customized treatment plan:
Fecal incontinence
Anal abscesses and fistulas
Changes in bowel habits
Pelvic floor dysfunction
Crohn's disease
Colon and rectal cancer
We always try to find the least invasive form of treatment possible, and the majority of conditions are treated in our comfortable, welcoming offices.
Surgery
On occasion, it may be necessary to perform colo-rectal surgery on a patient, for conditions such as anal fissures and fistulas, hemorrhoids, cysts or skin tags. At times like this, it's reassuring for you to know that you have highly skilled surgeons available to attend to your needs. Our goal is to enable patients to feel safe and secure in our hands, and to be reassured that you are getting the very best proctology services in Wilson NC.
There's no need to suffer ongoing pain, itching and bleeding from embarrassing colorectal conditions. Contact S&W today for a confidential consultation to discuss your requirements and to find out how we can bring you relief and improved quality of life.